Rufina, still a pilgrim at 95 years of age: "I always have a cold beer when I get to the Obradoiro [the main square in Santiago]... the only one I have on the whole Camino!"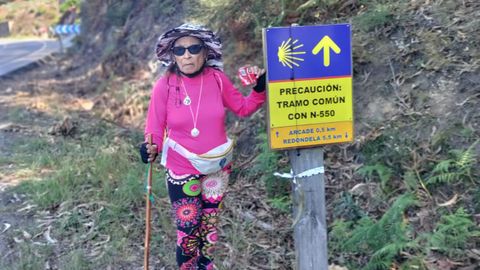 At 85, she walked the Camino de Santiago for the first time and last month, a decade later, she earned her fifth Compostela
13 nov 2023 . Actualizado a las 17:42 h.
And Rufina Rodríguez is genuinely 95 years old, because her birth certificate says so. Yet her eloquence when speaking, her dexterity in using WhatsApp, and the 114 kilometres she has covered by foot from Tui to Santiago in just four days, might make you think otherwise.
Hers is one of those stories that can get lost in the figures. One of those hidden among the 68,877 Compostelas (certificate awarded for completing the pilgrimage) that were handed out last month alone, when this native of Puerto Rica completed her fifth Camino de Santiago. She did it in a group, accompanied by her daughter and at a pace that many half her age might have trouble keeping up with.
What motivated her? Well, for starters, a birthday and catching up with old friends: "I wanted to meet up with some of the people I had previously met while doing the Camino. On my first pilgrimage, I met a couple who had a bar in Pontevedra and we celebrated my 85th birthday there. I was hoping to see them again, though sadly it wasn't to be. And no, you didn't mishear: Rufina completed her first Camino de Santiago a decade ago, when she was 85 years old. And since then, she has done it four more times.
What is the secret to overcoming such tough challenges with almost a century under your belt? For Rufina, the key is exercise and good nutrition: "You have to like walking and do it two or three times a week, even if you don't go far. Diet is also important, with not too much salt and sugar. I eat a little bit of everything." But that is not all the voice of experience has to say: "The key is to have enthusiasm and the desire to walk, which is something that is born in you but can be developed. You start with 20 minutes and before long your body is asking for 30 and it goes from there little by little."
She also has a little something to look forward to, although she waits until almost the end of the pilgrimage: "I treat myself to a cold beer. Although I only have one, as a reward, when I finish. My body begs me for one, just like it does with walking." In Puerto Rico, we call beer medalla [meaning a medal], so we reward ourselves with a medal," she jokes. On finally arriving at the Obradoiro square in Santiago, aside from having a cold beer, she always visits the cathedral, gazes at the botafumeiro (giant censer found inside the cathedral), takes a photo or two as a keepsake, and does whatever else needs to be done: "This year I met a lovely group of people from Andalusia, who even had me dancing flamenco," remarks Rufina.
And that solitary beer is one of the things she enjoys the most about the Camino, along with all the nature on show and the delicious food, with scallops and tortilla ranking among her favourites. Yet the best thing for her is something more intangible: "The best thing is all the people you get to meet and all the things you get to share. I've met friends on the pilgrimage who are now more like family", claims this veteran, who is fond of saying 'you learn something from everything, my dear'. "Travelling from Puerto Rico to Galicia at this age is definitely a learning experience," she remarks.
She is adamant that this fifth Camino will not be her last, God willing, because "you have to keep walking" and "you should never let yourself go to seed". That said, for her next adventures, she already has new companions and future successors: "On this camino, I had some welcome company I was not expecting. My grandson, his wife and their daughters came along. My two great-granddaughters, who are 8 and 11 years old, walked the last stage with me —26 kilometres— and both of them loved it, especially the youngest, who now wants to go all the way. She inherited that from me!" she concludes, as emotion mingles with laughter, as it has over our entire conversation.
---
---